BRING ON SPRING
Bring on Spring
How time flies, winter just passed in a blink of an eye. It wasn't too long back when we were stacking firewood and poking our communal fireplace on a regular basis. With our team humming along and bookings lined up, Dusky Lodge was ticking along just fine. Just as we seemed to be on the path to post covid recovery, the Delta variant got into the community and the country went into level 4 lockdown. What a bummer. While we can moan and whine about the circumstances, we at Dusky like to look forward to the future, a better brighter future. Bring on Spring we say, we can't wait to host again.
Lockdown
Lockdown 2.0 gave us time to sit down and compose ourselves and take stock of the progress in our lives. Bar the odd sleep in, our days typically started with yoga, dancing to music whilst making breakfast, lazing in the sun and then movies by our fireplace. In the evenings we played hide and seek, spoons or had potluck meals.
Staff
Team Dusky is made up with staff from all around the world. A vast majority of our staff are here for at least a month, working in exchange for accommodation whilst exploring the region. Others chose to put their heads down and work extra shifts with local businesses, saving before their next adventure across New Zealand.
As a team we enjoy various activities on a weekly basis. Besides playing Bingo at our local pub every Wednesday or entering a team for the local pub quiz, we have potlucks, team dinners and trips to the cinema and beach. Just before lockdown started, Team Dusky was competing in a weekly pool tournament, we were not leading the league, but the free nibbles and cheap beers ensured we had heaps of fun!
Do you have what it takes to be a Dusky Superstar? Email us at [email protected] to apply.
Pets @ Dusky
This spring, we look forward to hosting our second Dogs-In-Togs Party. All four-legged fur babies are welcomed to join their humans in our heated saltwater swimming pool. There will be dog treats and prizes for the best dressed dog. Check our social media for further updates.
Did you know that at Dusky Lodge we are fully pet friendly? This means fun for the whole family and your fur baby too, we truly are your home away from home. Our team offers limited dog sitting services this summer, please enquire directly for terms and conditions.
Mates rates
Here in Kaikoura we love our local mates. We are happy to work in partnership with various businesses across town to offer discounts to all our guests. From fishing charters, pizza parlours and arguably the best pub in town, all you have to do is show your room key tag to get discounted prices!

Our mate of the month is Black Rabbit pizza! From vegan to meat lovers, rabbit and even kangaroo pizza, their food is mouth-watering and oh so delicious. All Dusky guests get 10% off, and make sure you leave enough space for their chocolate brownie berry dessert pizza.
Current mates: Black Rabbit Pizza, The Groper Garage, Poppy's Handmade ice cream. *link to business*
Parting words and level two
As we enter level 2, we would like to remind our guests to follow the government's advice and to sign in and wear a mask. This not only helps keep other guests safe but allows us to stay open and continue to take bookings.
While the temperature starts to rise, the birds fill the air, we at Dusky say, bring on the guests, we can't wait to host you.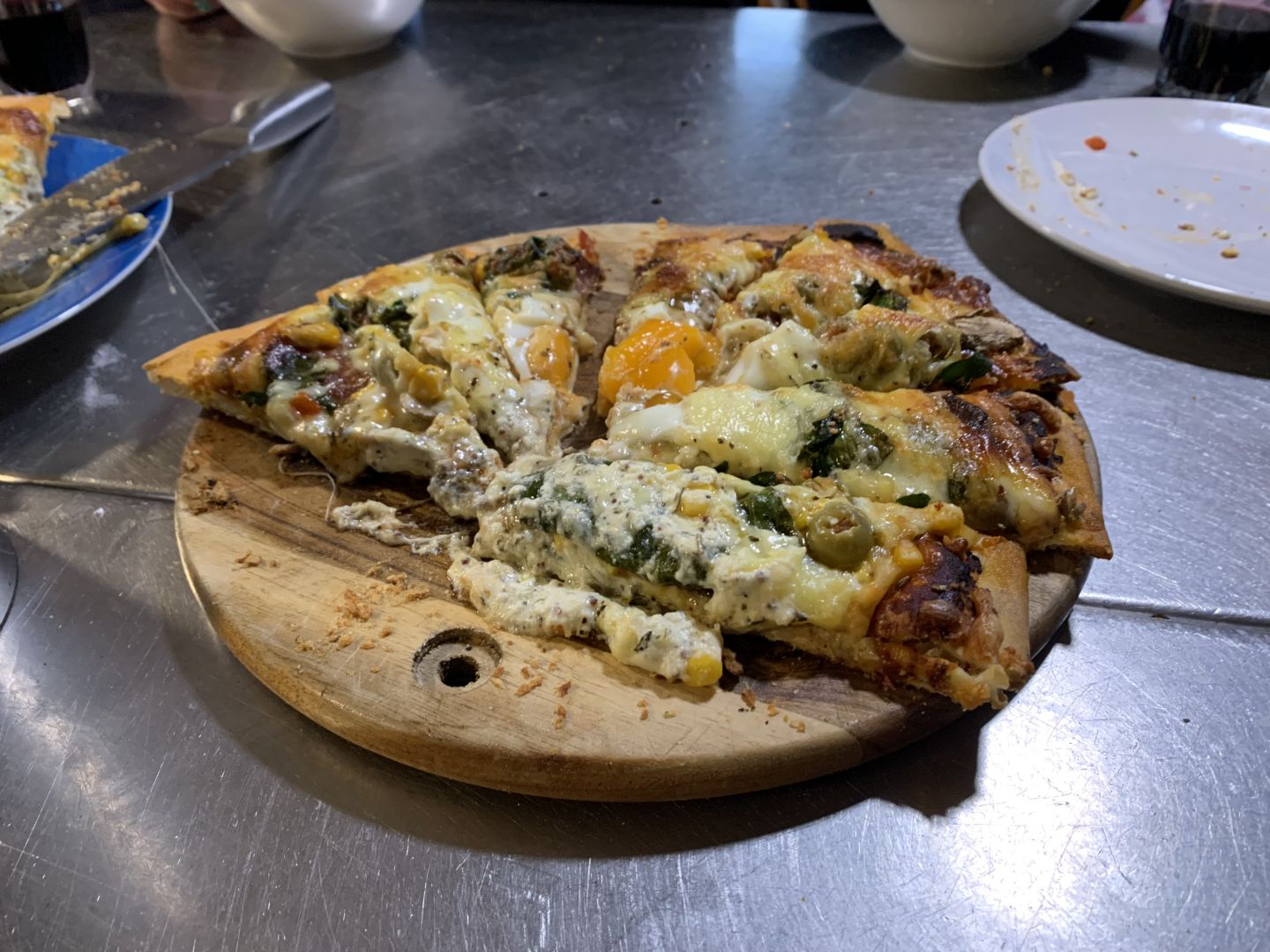 What our previous guests have said
Awesome pool and spa, beautiful amenities, very clean and modern, wonderful staff
Veva Maree
Sue Keall – Victoria University of Wellington, 2020 Awesome accommodation option for a group. Great facilities and potential for bespoke requests.
Sue Keall – Victoria University of Wellington
I stayed in a Standard 4 Bed Mixed Dorm. I loved it even though our stay was only for 14 hours. I must appreciate the team who ensured my tripod stand was kept
Anish
Great basic accommodation. The pool was a real hit and having the bar / restaurant beside was awesome.
Maarty Schaap
Bruce – Renwick Premiers, 2021 The facilities and accommodation were excellent and perfect for the boys stay and the Management and players would like
Bruce – Renwick Premiers
Great stay! The lodge had all the essentials and made it easy to stay with two family members and a dog (pet friendly yay!). We were heading up Mt Fyffe the
Nicole
Awesome location, lovely pools, friendly helpful staff and clean facilities. It is very good value for money. The kitchen is well equipped. The showers have
eiuol8
We stayed for one night and it was fantastic! We got a private family room with an ensuite, the beds were nice and the room was spacious. The pool and spa were
Hope
Clean and plenty facilities, good Wifi, very affordable and excellent staff. The hostel Dog is an absolute highlight! Highly recommend staying here. Also the
Nicole Prieg
Clean and well presented rooms with very well organised kitchen with great storage and very clean. Great service for our late check in and friendly reception
Michelle Bennett
READ MORE REVIEWS